Belfast and Dungannon: 'Possible link' between armed burglaries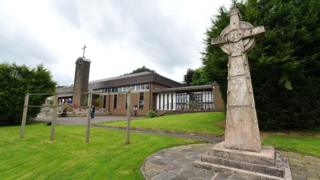 Police are investigating a possible link between a parochial house burglary in Belfast and the burglary of a home in Dungannon, County Tyrone, on Friday.
The aggravated burglaries took place within a three-hour period and in both cases, two men, one armed with a gun, forced their way into the properties.
A priest was threatened at St Michael the Archangel parish house in Finaghy Road North at about 19:50 BST.
A man and a woman were threatened at a house on Circular Road at 22:00 BST.
All the victims were left "badly shaken" after the burglaries.