Downpatrick: Man dies in clay pigeon shooting 'accident'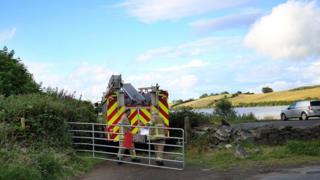 A man has died in a suspected accident at a clay pigeon shooting event in County Down, police have said.
It happened near Downpatrick on Sunday afternoon. They said the man, who was in his 60s, died after a "firearm was discharged".
Detective Inspector Will Tate said: "We will be conducting a full investigation into the circumstances surrounding this death."
He added: "Initial enquiries would indicate this to be a tragic accident".
South Down MP Margaret Ritchie, SDLP, said, she was "deeply saddened" to learn of the death.
"Undoubtedly, the family and friends of this man are experiencing unspeakable grief and my deepest sympathies are with them at this time," she said.
"The local community in Downpatrick and further afield will stand shoulder to shoulder with the family of the bereaved and friends on this tragic occasion."
Mrs Ritchie's MLA colleague, Colin McGrath, said a robust safety investigation should be carried out to maximise safety and ensure such an accident does not happen again.