North Belfast: Disputed parades talks to resume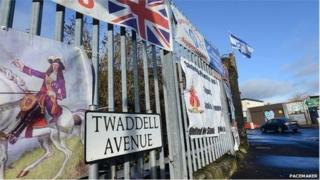 Talks to resolve a dispute over a contentious Orange Orange parade in north Belfast are expected to resume shortly.
A plan to end the row collapsed last month when Ballysillan Lodge said it wouldn't back it.
A UDA faction supported that decision.
But the BBC has learned that a group representing the leaderships of the three main loyalist paramilitary organisations has backed the deal.
Protest
It is now just over three years since loyalists set up a protest camp at Twaddell Avenue in north Belfast.
They did so after an Orange Order parade was banned from returning to Ligoniel along a route that would have taken it past the Ardoyne area.
A proposed agreement between CARA. the Crumlin Ardoyne Residents Association, would result in that return parade being completed.
In return, the Twaddell protest camp would be dismantled.
Those involved in the talks that led to the agreement had hoped it would have been in place before the Twelfth this year.
But it collapsed last month after members of Ballysillan lodge said they were opposed to the plan.
Some members of that lodge made their opposition clear when they marched to police lines on the Twelfth this year.
Ballysillan expected the other lodges to arrive, but they did not show up.
At the time, Orange Order and loyalist sources said it was simply because they did not have time to get there before an 20:30 BST deadline set by the Parades Commission for the parade to disperse.
However, that did not happen by accident.
In each of the previous three years, the three lodges had been given special permission to march together, despite being members of different Orange districts.
That alliance was broken this year when the two lodges that backed the proposed parade deal asked to walk with their own districts in the main Belfast parade.
The result was that Ballysillan was left looking isolated, and with little support.
A faction of the UDA supported the decision by Ballysillan Orange Lodge not to support the proposed deal and to keep this protest going.
But the events of the Twelfth demonstrated that they are in a minority.
'Agreement'
The BBC has established that a group representing the leadership of the UDA, as well as the UVF and Red Hand Commando, has endorsed the parades agreement.
The Loyalist Communities Council hasn't taken part in the talks, but has backed the deal.
The nationalist residents' group CARA also faces opposition from within the Ardoyne area.
Another resident's group, GARC, has made it clear that it will oppose any move to allow the banned parade to complete its route.
Talks aimed at resurrecting the parade deal are expected to resume in the near future.
Despite the opposition on both sides, those involved are said to be hopeful agreement can be reached.