Denis Donaldson: Man charged with withholding information about murder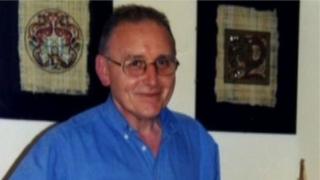 A 74-year-old man has appeared in court charged with withholding information about the murder of a former Sinn Féin official and republican informer.
Denis Donaldson was murdered in County Donegal in April 2006, months after being exposed as an agent who worked for the police and MI5 for 20 years.
Patrick Gillespie, of Craigvar Street, Glasgow, is charged with committing the offence between 2006 and 2016.
The accused, who also has an address in Donegal, was remanded in custody.
Mr Donaldson, 55, was once a key figure in Sinn Féin's rise in Northern Ireland politics.
He was shot dead at an isolated cottage near Glenties.