M2: Major traffic delays leaving Belfast due to multi-vehicle crash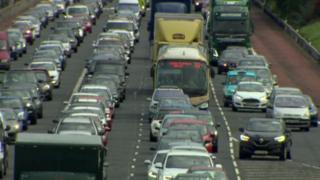 A multi-vehicle crash on the M2 caused long traffic delays around Belfast at teatime on Friday, 29 July.
The crash blocked three lanes near Bellevue Bridge, with traffic tailed back to York Street.
These lanes were reopened just before 18:00 BST but there continued to be delays leaving the city as the traffic cleared.
Bus services were also affected. Three ambulances attended the crash.
It is understood two people have been taken to hospital.