Omagh: Teenager seriously injured after Hospital Road assault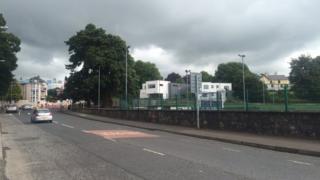 A teenager has been seriously injured after he was attacked and beaten in Omagh, County Tyrone.
It happened at about 03:00 BST on Saturday. The 18 year old was walking along Hospital Road when a number of men got out of a black car.
They hit him with a club or bat and he suffered injuries to his head and body. He was taken to hospital.
Another 18 year old, arrested on suspicion of causing grievous bodily harm, has been freed unconditionally.
Police have appealed for witnesses.
A spokesperson for the Western Health Trust said the teenager was in a serious but stable condition in hospital.