Belfast Metropolitan College: Woman awarded £55k for unfair dismissal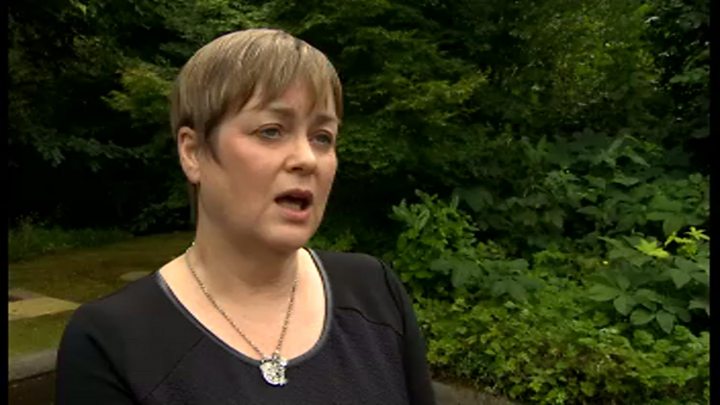 A Belfast woman has been awarded £55,000 after she was "both constructively and unfairly dismissed" by Belfast Metropolitan College (BMC).
Patricia Flanagan said she was "effectively sacked twice" by the college.
"This has been a totally horrendous experience," she said.
In April 2016, an industrial tribunal ruled in Ms Flanagan's favour, but the level of compensation she was entitled to has just been decided.
'Let down'
A previous appeal hearing at the Labour Relations Agency (LRA) in August 2014 also found that Ms Flanagan had been unfairly dismissed from her role at the college.
As well as ruling she had been unfairly dismissed, the LRA ordered BMC to reinstate Ms Flanagan to her senior role as creativity and innovation lead "with immediate effect".
However, BMC failed to do that.
Ms Flanagan said she felt "completely let down" by senior management at the college.
"To find yourself in a situation where you have had your job taken from you for no reason, eventually it does wear you down," she said.
"You constantly hit a wall and cannot get people to do what I would consider to be the right thing.
"The money would in no way compensate for three years of my life spent trying to clear my name."
Resigned
Ms Flanagan was originally suspended by BMC's chief executive, Marie-Therese McGivern, while allegations, including fraud, were investigated in June 2013.
She was subsequently dismissed in March 2014.
Ms Flanagan appealed the college's decision to dismiss her, which led to the 2014 LRA judgement in her favour.
However, the subsequent industrial tribunal ruled that the college had adopted a "less than whole-hearted" approach to re-instating Ms Flanagan to her job, and had not approached a mediation process properly.
Ms Flanagan had been working at BMC since 2005, but eventually resigned her post in March 2015.
In February 2015, an occupational health specialist appointed by BMC found she was suffering from "anxiety, depression and PTSD".
Ms Flanagan attributed this to her treatment by the college.
The industrial tribunal also found that BMC had "continually breached" Ms Flanagan's contract of employment over a period of 18 months until her resignation.
Apology
Ms Flanagan said she had not received an apology from her former employer.
Katharine Clarke, from the University and College Union (UCU), which represented Ms Flanagan, said her treatment by BMC was "appalling".
"It suggests to me that Belfast Met haven't learned any lessons if they still consider that an apology is inappropriate for the way Patricia has been treated."
When contacted by the BBC, Belfast Metropolitan College said it did not comment on personnel matters.