Roma Downey: Londonderry-born actress dedicates Hollywood star to home city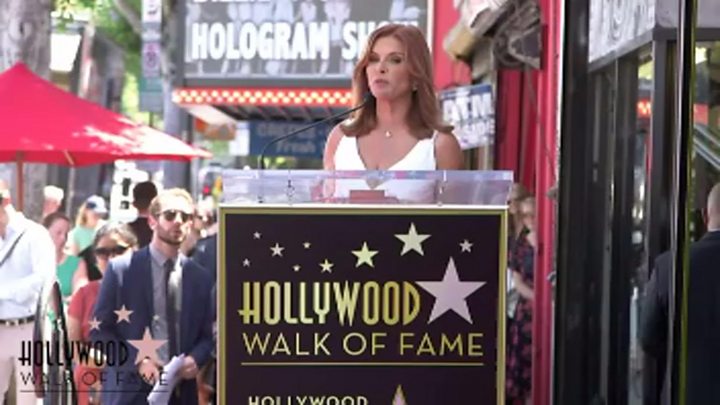 Northern Ireland-born actress Roma Downey has received a star on the Hollywood Walk of Fame.
Born in Londonderry, Ms Downey is best known for her starring role in the US television show "Touched by an Angel".
Her star, the 2,586th on the Walk of Fame, is next to her husband's, Mark Burnett, on Hollywood Boulevard.
Speaking at the unveiling in Los Angeles, Ms Downey dedicated the star to her home city.
"I know this event is live streaming around the world and so many friends and family are tuned in," she said.
"Hello to everybody in Derry especially and I'm sending all my love across the sea.
"This is a great day for the Irish."
Ms Downey spoke of leaving Ireland 25 years ago in search of the American dream.
"I came with my heart full of hope," she said.
"The American dream meant to me freedom and opportunity and like many immigrants before me this great country has offered me the opportunity to make my dreams come true.
"Many, many years ago when I moved to New York I was a coat-check girl in a very fancy restaurant on the Upper West Side.
"I maybe got a quarter a coat and I met my very first celebrity Regis Philbin.
"I checked his coat and when he was leaving he gave me $20 and I though I'd died and gone to heaven."
The actress and producer told the watching crowd that years later when Touched by an Angel was on television she was asked to come onto his talk show and was able to recount the story.
"Only in America could that happen," she said.
"One year you're checking coats and then you're starring on television."
Ms Downey also thanked her family at the dedication.
"It has been my privilege in my career, both as an actress and now as a producer, to be able to work on material that uplifts and unifies.
"I feel great today. I get to have a Hollywood star, lying right next to my husband's Hollywood star.
"If there was anyone I was going to lie on Holywood Boulevard with it's you my love."
Roma Downey recently starred as Mary in the film Son of God and is currently promoting her latest venture - a remake of Ben Hur.