Michaella McCollum arrives back in Ireland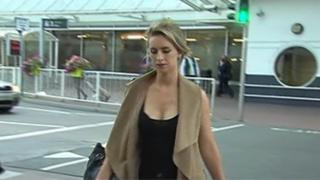 Convicted drug smuggler Michaella McCollum has arrived back in Ireland after being released from prison in Peru earlier this year.
The 23-year-old from Dungannon in County Tyrone, arrived into Dublin airport on Saturday night on a flight from London.
She had left South America on Friday night.
McCollum was released on parole in March after serving less than half her six-year, eight-month sentence.
McCollum and Scottish woman Melissa Reid were arrested in August 2013 at Lima Airport with 11kg of cocaine hidden in food packets.
She had been staying in Peru awaiting a judicial hearing to decide when she could return home.
Melissa Reid arrived back to Scotland in June.