NI prisons: Concern over solitary confinement figures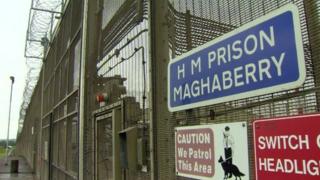 Northern Ireland's prison ombudsman has expressed concern that a number of inmates have spent months, and in some cases years, in solitary confinement.
At least 10 inmates were isolated for more than 100 days each last year, according to figures published by the investigative website, The Detail.
One spent almost five years in solitary confinement between 2011 and 2016.
Ombudsman Tom McGonigle said it can be damaging but added there are complex reasons for isolating some prisoners.
'Choice'
Mr McGonigle said inmates can be sent to solitary for breaking prison rules but some are segregated for their own safety - because they pose a threat to themselves, staff or other prisoners.
He said some vulnerable prisoners simply cannot cope with the general prison regime and it is debatable whether prison is the right environment for them at all.
Some are isolated because staff have been made aware of a threat against the detainee.
In Northern Ireland, solitary confinement prisoners are sent to a Care and Supervision Unit (CSU) within the jail, where they can be locked up in their cells alone for more than 22 hours a day.
They are released for one hour of exercise each day, and also have access to showers and phones and can receive visits.
But the ombudsman said some prisoners actually prefer to be held in isolation.
"In some cases, it's important to point out, that those prisoners actually do have choices," Mr McGonigle told the BBC's Talkback programme.
"The Prison Service would offer to accommodate them elsewhere but they would prefer to stay in the CSU."
However, the ombudsman added that in general, solitary confinement was a difficult environment for prisoners to live in and for staff to work within.
He said it also made it harder to integrate inmates back into normal life after long periods locked up alone.
The Detail obtained the figures through a series of Freedom of Information requests sent to the Northern Ireland Prison Service.
It requested data on the 10 prisoners who have spent the most time in solitary confinement in each of Northern Ireland's adult prisons - Maghaberry, Magilligan and Hydebank Wood.
Since 2011, the longest recorded stay in the CSU at Magilligan Prison in County Londonderry was 138 days.
In Hydebank Wood, which houses female prisoners and young offenders, the longest period any inmate spent in isolation was 46 days.
Inmates held in Maghaberry Prison, which houses men charged and convicted of serious and violent offences, spent the longest periods in solitary confinement.
Mr McGonigle said he visits CSUs in Northern Ireland about four times a year as part of his job and had seen some "good work" done with prisoners in a difficult environment.