Coleraine: Waste ground transformed by Kew Gardens funding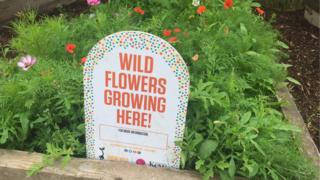 More than £100,000 provided by the world famous Kew Gardens has been used to transform a large area of waste ground between two housing estates in Coleraine, County Londonderry.
The money has been spent on planting wildflowers, building an outdoor classroom and a community garden.
The space is on seven acres of former disused land between the Ballysally and Millburn estates.
It had become a problem area used for drinking and fly-tipping.
The Cornfield project as it is known, was the regional winner in a competition run by the renowned botanical Kew Gardens based in London.
Community cohesion
As well as improving the area, the project is improving relationships between two communities that had little in common.
Millburn is an established Coleraine estate.
Lots of people moved into the big Ballysally estate from Derry during the Troubles and it remains an area of social deprivation.
At times, there was little contact between people who lived a short distance apart.
Adrian Eakin, from Ballysally, said the idea is to provide a wildflower and wildlife haven that can be used by people from both estates.
"The two communities will be working with each other to achieve this vision and that will bring greater community cohesion," said Mr Eakin.
'Ground up'
Billy Ellis from Millburn said that because people were consulted, they had really taken ownership of the scheme and helped to deliver it.
"This is a project that has come from the ground up," said Mr Ellis.
Local schools have also been involved, helping to design and build parts of the scheme.
There is also an outdoor classroom where children can learn about nature.