Ashers: AG asks for cake case to go to Supreme Court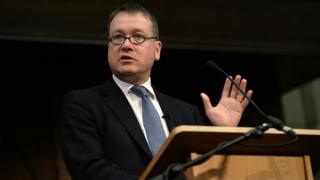 Northern Ireland's Attorney General (AG) has asked the Court of Appeal to refer aspects of its finding on the Ashers Cake case to the Supreme Court.
The Belfast Telegraph has reported that John Larkin QC wants the UK Supreme Court to examine a number of legal questions arising from the case.
Its understood the Court of Appeal has not yet responded.
Mr Larkin previously intervened in the case in February.
Last month the Court of Appeal in Belfast upheld a ruling that the baking company had been discriminatory in its refusal to provide a cake for a same sex marriage celebration.