Killed horse reveals Australian family's history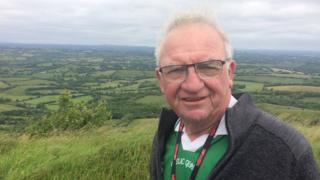 Almost 200 years have passed since Stephen Cassidy and his three sons (allegedly) struggled up to a Fermanagh precipice with their landlord's horse and nefarious intent.
But if they had not, several generations of Australians might never have been born.
Ireland in the early 19th Century was a tumultuous place.
The 1798 Rebellion was still fresh in the memory, and the relationship between landowner and tenant farmer as fractious as ever.
It was in this environment that Stephen Cassidy and his sons Thomas, Edward and Philip fell foul of the law.
Their history had already been chequered. The Cassidys had been put off their land at Upper Gortgall, near Boho, in November 1827.
'Struck on the forehead with a hammer'
The following summer, Stephen and Thomas appeared in court, accused of menaces towards the new tenant.
There were suggestions of previous litigation with a landlord, Rev Clarke, who was believed to want the Cassidys "out of the country".
They were found not guilty, but it seems relations did not improve.
In 1829, on a chilly September day, a horse belonging to the landlord, Andrew Whaley, was driven from Upper Gortgall up a precipice overlooking Boho.
The unfortunate animal had its feet tied together, before it was struck on the forehead with a hammer and pitched off the grassy outcropping.
A few days later, the four Cassidys appeared at the Enniskillen Assizes. All were found guilty and sentenced to death.
But the following year, their sentences were commuted. Due to his age, Stephen Cassidy was imprisoned for two years, while his sons were transported to Australia for life.
'It's a dream'
And that is where Des Cassidy's story begins.
Stephen Cassidy's son, Thomas, was Des's great-great grandfather.
This year, Des made the journey from Parramatta, Sydney, back to the townland of his forefathers - the first time a Cassidy of the line had stood on Upper Gortgall in almost 200 years.
"It's a dream that you dream of, but you never expect to happen," he said.
"Ever won a million dollars? It feels better than that. It's the best feeling I've ever had in my life, to come back to where my ancestors started their life. It's great, really great."
For his daughter Donna Webeck, it was a privilege to come "home".
"It's such an honour to know where your story began," she said.
"Even though it was an inauspicious start to our family story, it's something I'm still very proud of."
The story of their roots has been pulled together by Veronica Williams, a fellow descendant of Thomas Cassidy.
"I've been researching the family since 2006," she said.
"I was interested in history all my life and the Cassidys particularly, because I was told I was like my grandmother, Rebecca Cassidy.
"I inherited a box of papers from my uncle, who'd done a lot of work on the Cassidys in Australia.
"He'd traced every living descendant of Thomas Cassidy, so I took that research and put it on the internet and then found out that Thomas and his brothers had actually been convicted of throwing a horse off this cliff."
Thomas Cassidy was aged about 30 when he was deported. On arrival in Australia, like all convicts, he was employed as a constable.
This meant he would get a permit to work in the local area after serving a number of years, followed by a conditional pardon.
Veronica's research has established that Thomas tried to marry an older woman in Australia in 1838, but was forbidden, because he had already declared himself married when he was brought in on the Hercules.
Twelve children
Nevertheless, he took up with another woman and they went on to have 12 children, creating the Australian Cassidy line. But that leaves a mystery for the family.
"Thomas left behind a wife and two young girls in Ireland," said Des.
"We've tried to find out more about them but we don't know anything. If anyone knows anything, we'd love to hear from them"
Veronica is on the trail.
"I think I have found two daughters who later came to Australia, but I haven't been able to prove it, so I'm looking for descendants of Cavanaghs in Australia to see if they were the children of Thomas Cassidy," she said.
The colourful history of the Cassidys is shared by thousands whose ancestors were deported from Ireland in the 19th Century.
Never mentioned
"We never knew that they were convicts. It was never mentioned in our family, because it wasn't really respected back in those early days," Veronica said.
"But these days, convicts are treated like Australian royalty. So you're very proud to have a convict in your heritage.
"There is some conjecture that they didn't actually throw the horse off the precipice and I like to believe that, but Thomas wouldn't have been in Australia and we probably wouldn't be here if it hadn't happened."