Belfast Championship Dog Show taking place in Balmoral Park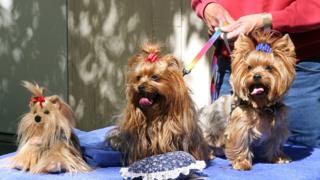 The biggest dog show in Ireland is being held in Lisburn, County Antrim this weekend.
Thousands of pooches will descend on Balmoral Park to compete in the Belfast Championship Dog Show.
The pups will strut their stuff in the hope of winning the competition - and a place in this year's Crufts.
The pedigree dogs taking part will be judged on temperament, fitness, health, happiness and whether they are good examples of their breed.
The show will see rare native Irish breeds competing, such as the Glen of Imaal Terrier, Irish Red and White Setter, Kerry Blue Terrier, Irish Wolfhound and Irish Water Spaniel.
These breeds are bred in such small numbers today that they are considered by the Kennel Club to be at risk of disappearing from Ireland's streets and parks.
There will also be some of the more well-known Irish breeds such as the Irish Setter, Soft-Coated Wheaten Terrier and Irish Terrier.
In addition to breed judging, the show is holding obedience and agility competitions, so visitors can watch a range of events and find out more about the different activities that dogs can get involved in.
Jackie Stubbs, secretary of the show, said: "Ours is the largest dog show in Ireland and naturally we are very proud of that fact.
"Being held a few miles from the centre of the vibrant and historic city of Belfast, the show is very popular with visitors and brings thousands of dog lovers to the area each year.
"We are expecting this year's show to be bigger and better than ever.
"The show is a huge celebration of man's best friend and visitors will get to meet lots of wonderful dogs throughout the weekend, find out more about dog showing and the various activities they can get involved in with their own dog, and browse the many dog products on the trade stands.
"Anyone thinking about getting a pedigree dog can come along and research their favourite breeds, as well as some of the lesser known breeds they may not even have heard of, and take the opportunity to meet the dogs themselves, which is definitely a favourite with families."