NI weekly paper review: Floods and a French kiss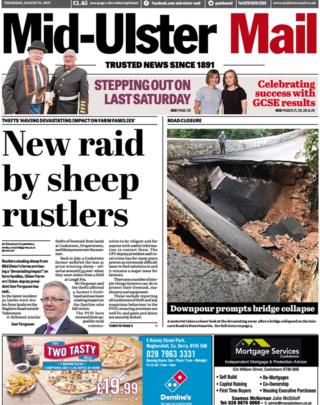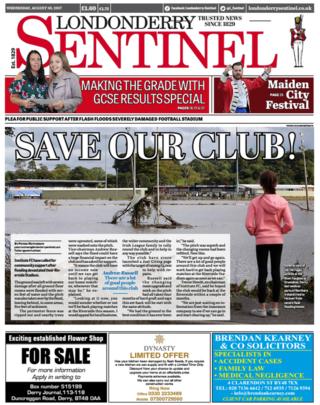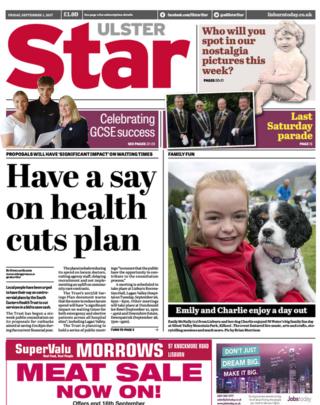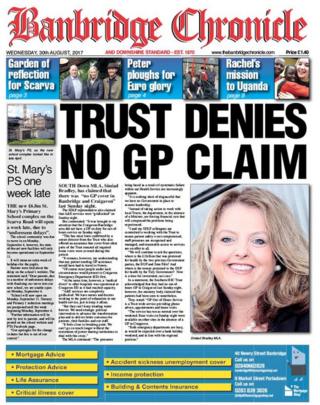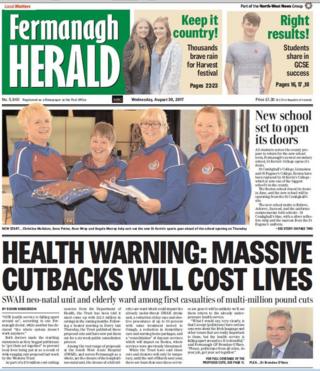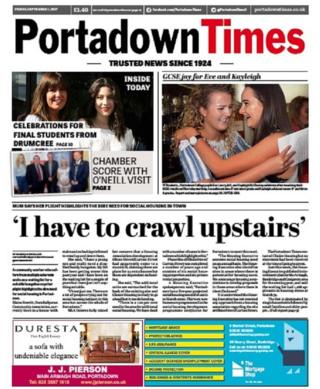 Floods, sheep rustling and an award-winning French kiss are among the stories featured in NI's weekly papers.
Not surprisingly, last week's flooding in the north west dominates the Londonderry Sentinel.
"Save our club" is the headline on the front page.
The vice-chairman of Institute FC says that the flood could have a huge financial impact on the club, as it will have no income until home games can be played on it again.
"Looking at it now, you wonder whether or not we'll be back playing matches at the Riverside this season," he says.
Trees were uprooted and washed onto the pitch at Drumahoe during the floods, while club rooms were also flooded.
Staying with the flooding in the region, the paper says NI Water has moved to reassure people that drinking water from the river Faughan was not contaminated.
However, local anglers and former MLA Eamonn McCann express doubts.
The weather also makes headlines in County Down, with a lightning strike at a house in Katesbridge featured in the Banbridge Chronicle.
Brenda Higgins tells the paper the telephone in the hall was "blown off" when the lightning blew a hole in her roof last week.
Radiators were also knocked off walls during the terrifying incident.
Elsewhere in the paper, a French kiss has won a businessman from the town a trip to Cognac in France.
It says Michael Young wowed judges at a cocktail competition with his creation called a Bisou Francais (French kiss).
The ingredients, if you fancy trying to make one at home, (good luck): Hennessy V.S, muddled apricot, freshly-pressed lime, home-made apricot and vanilla reduction, Demerara sugar, Angostura bitters and egg white.
Health service crisis 'dreadful'
"Our health service is falling apart around us," is the stark warning on the front of the Fermanagh Herald.
GP Brendan O'Hare spoke to the paper after it was revealed that the Western Trust has been told to come up with £12.5m savings in the coming months.
"What I would say, very clearly is that I accept [politicians] have serious concerns about the Irish language and other issues that are really important to them, but the health service is falling apart around us," he says.
"It is dreadful. Please, politicians from all sides, do you job, get your act together."
The paper also features an emotional plea from a priest at the funeral of one of two men killed in a crash outside Newtownbutler.
Friends Luke Lynch and Ronan Melarkey were killed in the crash.
Fr Michael King said that what the boys' parents were going through "is every parent's worst nightmare and sadly it's being repeated in every home almost every day".
"It's a reminder to us all of how careful and watchful we need to be on our roads."
32 lambs
The "devastating impact" of sheep rustling is the lead story in the Mid Ulster Mail.
It says 32 lambs were stolen from a farm outside Tobermore in the latest incident. It follows similar thefts in Cookstown, Draperstown and Moneymore during the summer.
Ivor Ferguson of the Ulster Farmers' Union says the raids can have a "lasting impact" on the families who are targeted.
Inside, the paper says that a long-delayed multi-million pound development of a site at Desertcreat, near Cookstown, has been given planning permission by Mid Ulster District Council.
It says the decision means that the fire service can now prepare for the first phase of building its training facility there.
"This is an important, long-term commitment to the Mid Ulster area and I look forward to watching the centre progress," says councillor Kim Ashton.
Fake Nicki Minaj 999 call
A Baptist pastor tells the Ulster Star how he and his wife "watched on in horror" as burglars drove way their cars after breaking into their Crumlin home.
Barrie Clingen ran downstairs to chase the thieves, but they had locked his front door after stealing the keys.
The break-in happened on the day their daughter received five A*s, three As and a B in her GCSEs.
Another Crumlin man features in a court case in the paper.
The 26-year-old, who once dialled 999 claiming to be American pop star Nicki Minaj, is facing five more charges of using a communications network to cause annoyance.
Over in County Armagh, the Portadown Times reports on community worker Elaine Sterritt, who has multiple sclerosis.
Elaine, who has a young son, says she has been on a waiting list for a disabled family bungalow for "a couple of years".
She tells the paper that on bad days, she has to crawl up and down the stairs of the house in which she currently lives.
Meanwhile, five midwives, four of whom work at Craigavon Area Hospital, are getting ready to "bring 21st century medicine to one of the poorest regions in Uganda", says the paper.
One of them, Laura Donaldson, daughter of Lagan Valley MP Sir Jeffrey Donaldson tells the paper: "Most people in Uganda have their babies at home so we want to encourage them to go to the health centre so that they have a professional with them.
"We will be spending a few days in the slums and working with young girls who live in horrendous conditions."