Device found after Lettershandoney 'bomb' claim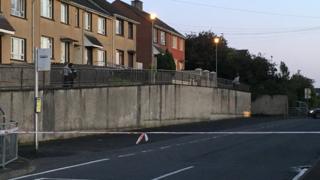 A viable device has been found after a two-day security alert in a County Londonderry village, police have said.
Police took the device away for examination and said people could return home in Lettershandoney.
Dissident republicans had claimed there was a bomb in the village.
Houses were evacuated and roads closed in the area's second security alert in as many days. Officers had to give some children a lift on their first day back at school.
On Wednesday night, a number of houses were evacuated in Oeghill Park during an alert, but nothing was found.
Supt Gordon McCalmont said "I am well aware how frustrating it has been for those people who have had their lives disrupted and I thank them for their patience and understanding.
"When violent dissident criminals tell us that there is a device in the area we do not take chances."
He said the police had received inaccurate information which prolonged their search.
"The blame lies squarely with those individuals who seem intent on creating fear and causing harm within our communities," he said.
A number of families were out of their homes for two days as army bomb experts examined the area.