Teachers take action over 'up-skirting'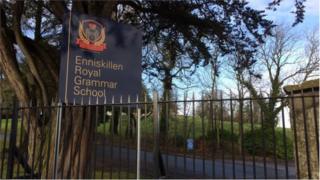 A teachers' union has voted to refuse to teach a pupil at Enniskillen Royal Grammar School (ERGS).
NASUWT instructed members at ERGS not to teach the pupil after claims "up-skirting" videos were made.
The school previously admitted a police investigation took place and "inappropriate images" of two members of staff were found.
A pupil was suspended for 17 days following the investigation.
'Sexually exploited'
In a letter sent on Friday from NASUWT to its members in the school, which has been obtained by BBC News NI, the union gives more details about what it calls the "horrendous ordeal" to which the two teachers were subjected.
"They described how the pupil allegedly took the footage - he hid his phone among school bags and slid it under the teachers' skirts with his foot while they were helping other students," the letter claims.
"These were not one-off but there were several videos.
"In summary - two of your colleagues were sexually exploited."
The letter claims that false rumours had circulated across Fermanagh alleging that one of the teachers involved had been suspended.
The letter claims that ERGS has not offered meaningful support to the two teachers involved.
"In the ballot the NASUWT instructed you to refuse to teach the pupil concerned," the letter continued.
"NASUWT members should now follow this action."
The case had previously gone to the public prosecution service (PPS) but it decided not to prosecute the pupil.
In a previous letter to staff, ERGS said the governors had considered whether to expel the pupil, but decided not to after taking legal advice.
The school also said that it - along with other agencies - had carried out a risk assessment and drawn up safety and support plans for both the boy and the two female teachers.
BBC News NI understands that another teaching union, the ATL, has decided not to issue a "refusal-to-teach" instruction to its members in the school.
The BBC contacted ERGS regarding NASUWT's action.
"Given the complex and sensitive nature of this issue for all concerned, we are disappointed that this is being dealt with in the media," said the school in a statement.
"It is not appropriate for the school to comment further."