Islamic festival in Belfast held at disused DIY shop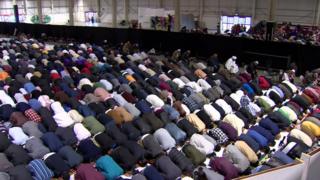 More than 1,000 Muslims have gathered in Belfast to celebrate the annual Eid al-Adha festival.
They are meeting in a disused DIY superstore on the Boucher Road.
Eid al-Adha - also known as the Feast of the Sacrifice - is the second of two annual Eid celebrations, and is held during the annual Hajj pilgrimage to Mecca.
There are an estimated 6,000 Muslims in Northern Ireland, most of whom live in Belfast.
Friday's celebration has included prayers, family events, and fund-raising for a mosque in Belfast.
Dr Raied Al-Wazzan of the Belfast Islamic Centre explained why the festival was being held in a disused DIY superstore.
"Eid al-Adha is the second largest festival for Muslims and we wanted a bigger place, a more open place with easy access," he said.
"We decided to hold it here so we can have the prayers in the morning and the activities after that and invite all the Muslims and some non-Muslims to join us to see the community and celebrate together.
"It is a disused DIY superstore but it is being converted to a community centre today and with the great help of lots of volunteers we did a great job to convert it to a usable, safe place.
"This is the biggest we could find, it is covered and has good access for everybody."
Last week, a pig's head was left on the doorstep of an Islamic centre in Newtownards, County Down.
Graffiti was also painted on a wall of the building, and police are treating the incidents as hate crimes.
Dr Al-Wazzan said that while some Muslims felt under threat, "the vast majority of people in Northern Ireland are welcoming and very tolerant and we are enjoying being part of that community".