Syria terror accused 'not arms expert', court told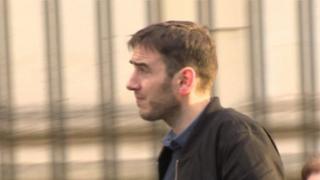 A forensics expert has said he is "not particularly" satisfied that a man accused of terrorism was an expert in handling weapons.
Eamon Bradley, 28, denies three charges relating to a trip to Syria in 2014, allegedly to help the struggle against President Bashar al-Assad.
The expert was giving evidence at Londonderry Crown Court.
The charges, dating from March to September 2014, include attending terrorist training camps.
They also include receiving training in the use of firearms - an AK47, DShK 38 and a BKC machine gun and a grenade.
Mr Bradley, with an address at Benview Estate in Coshquin, returned from Syria in October 2014.
In court in Omagh on Tuesday, a forensics expert was speaking after he had reviewed a photograph seized during searches at Mr Bradley's mother's house at Melmore Gardens, Creggan, Londonderry.
It showed Bradley in a tent or shelter with what was described as a "tripod" of assault rifles.
When asked if Bradley's answers in police interviews would satisfy him that the defendant was an expert in handling weapons, he replied, "not particularly".
The trial continues.