Renewable Heat Incentive: Firm launches legal bid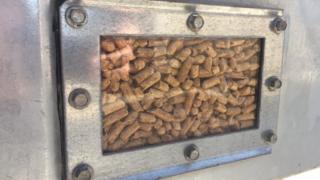 A major County Antrim business is taking the Department for the Economy to court over plans for a power plant linked to the Renewable Heat Incentive (RHI).
AA McGuckian, based in Cloughmills, have a pig farming enterprise.
The company planned a large combined heat and power plant fired by biomass and accredited to the RHI scheme.
It was part of a facility to produce 90,000 tonnes of wood pellets a year for supply to other biomass users.
The application was submitted in February 2016, just as the scheme closed to new entrants.
Despite securing planning permission and a connection to the electricity grid it has now been told it would not be eligible for subsidy.
Legal papers lodged in the High Court on Friday are seeking permission to challenge that decision.
'Told all along'
The McGuckians' solicitor said his clients had spent £500,000 on consultancy fees linked to the planning and accreditation process.
He said they had been "told all along" that they would be eligible for the subsidy and had invested on the strength of that commitment.
In May this year they got a letter informing them they would not be able to benefit from the scheme.
The issue came to light when the Department for the Economy sought EU state aid approval for new cost-cutting RHI tariffs earlier this year.
It emerged that tariffs set in November 2015, and which applied to installations accredited after that point, had not been approved for state aid.
That meant that the CHP (combined heat and power) plant was not eligible for support.
Projected overspend
The department wrote to the McGuckians to say that to pay out the subsidy would therefore be in breach of the state aid rules.
Those rules say governments can only offer support to businesses, that would otherwise distort the market, with the permission of the European Commission.
In a statement the Department for the Economy said: "As the inclusion of CHPs within the scheme is currently the subject of legal proceedings the department is not in a position to comment further."
Boiler owners claim that the exclusion of this and another planned CHP plant from the scheme could significantly reduce the projected overspend, which included a provision for their subsidy payments.
The organisation which represents them has suggested it could knock up to £160m off the projected 20-year overspend of £490m.
A senior civil servant told a Stormont committee in January this year that the two plants might account for £60m of subsidies over two decades.
New one-year tariffs introduced in April have significantly reduced the potential overspend in the scheme. This year it is down from £30m to £2m.
The plan is to extend the regulations by means of legislation at either a restored Northern Ireland Assembly or Westminster.