Stormont talks: Adams 'hopeful but not naive'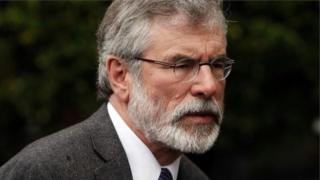 The Sinn Féin President has said he is hopeful power-sharing can be restored in Northern Ireland but that he is not "naive" about the challenges ahead.
Gerry Adams was speaking at the Irish Labour Awards in New York on Friday.
He said there needed to be a "serious step change" in how the Stormont institutions operate, as formal negotiations resume next week.
Mr Adams also described Brexit as the most "serious social, economic and political threat for a generation".
The Northern Ireland Executive collapsed in January, and power-sharing talks are deadlocked.
The Secretary of State, James Brokenshire, said on Friday that in the absence of devolution, Northern Ireland Assembly members' pay needs to be examined.
Addressing the Irish Labor Awards, Mr Adams said: "Despite the enormous challenges in trying to find a possible agreement we believe it is incumbent on us all to find a solution which brings about a serious step change in how the institutions must operate.
"I am not naive about the challenges facing all of us but I am hopeful that we can end the current crisis and restore the political institutions on the basis of equality and respect.
'Brexit threat'
"I also want to say a few words about Brexit. The rights of workers, their jobs and standard of living, are under serious threat as a result of Britain's decision to leave the European Union and drag the North with it.
"Brexit presents for the island of Ireland the most serious social, economic and political threat for a generation," he added.
Sinn Féin and the DUP, Northern Ireland's two biggest parties, have blamed each other for the lack of progress towards the restoration of the power-sharing institutions but had been engaged in "intensified dialogue" in the last week.
Their government broke down over a number of issues with the final straw for Sinn Féin being the DUP's handling of a botched green energy scheme.
On Monday, Northern Ireland Secretary James Brokenshire warned that the window to agree a deal over power-sharing was "closing rapidly".