Hurricane Irma: Portballintrae woman returns to US to be with mother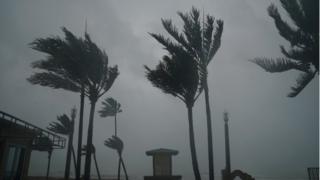 An American journalist who has lived in County Antrim for the last 20 years has said she has returned to hurricane-hit Florida over fears for her mother.
Hurricane Irma is lashing the low-lying Keys with winds reaching 130mph.
More than 6.3 million people in Florida were told to evacuate, with warnings of a "life-threatening" storm surge.
Joyce Ferder Rankin, who made her home in Portballintrae 21 years ago, flew back to Delray Beach ahead of the storm.
"I'm concerned for my mom, she's not as young as she used to be so it's going to be harder this time to go through this," she told BBC NI.
"She's already exhausted because I keep getting her up to take her to a safe room for the tornado watches.
"But there was a decision I took to come down here and be with her, because we couldn't get her out.
"So I'm hoping for the best. The storm is not as bad as I was first thinking it would be."
Delray Beach is in the east of the state which has escaped the worst of the storm, but Ms Rankin said there was still a serious flood risk.
"I'm worried a bit about the flooding because we're now under a serious flood watch - we're supposed to get about 20 inches of rain," she said.
"We're packed and ready to go if it starts to flood."
She added: "We are actually being pretty lucky, because the storm has shifted west.
"We lost power about nine hours ago, so that's us done for probably a week or two - hopefully sooner, but unlikely."
More than a million homes are without power in the state.
Cities such as Tampa and St Petersburg lie in the path of the storm. The Tampa Bay area, with a population of about three million, has not been hit by a major hurricane since 1921.
Governor Scott told NBC's Today Show that though authorities had prepared all week for the arrival of Irma, the prospect of such a large storm surge was "really scary".