Belfast passenger plane hit runway light during take-off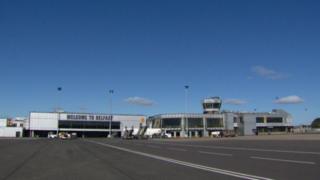 A serious incident in which a passenger plane struck a runway approach light when taking off from Belfast International Airport could have led to a crash, an accident report has found.
The Air Accident Investigation Branch (AAIB) said the flight to Corfu in July took-off without the required thrust.
In total, 185 people were on board the plane - 179 passengers and six crew.
The AAIB said the plane's thrust setting was "significantly below that required".
The report, which highlighted several safety concerns about the flight, also said that had the runway been shorter, the plane may have crashed.
Flight data wiped
The report stated: "It was considered that, in slightly different circumstances, this event could have resulted in the loss of the aircraft with multiple fatalities."
It also said the AAIB was not informed of the incident until three days later, by which time the flight data recorder and cockpit voice recorder had been overwritten by other flights.
The plane flew 16 times between the incident and the time it was reported to the AAIB.
The aircraft, which departed shortly before 15:40 BST on 21 July, was being operated on behalf of Thomson Airways.
Investigators said that as the plane lifted off, one of its tyres struck a 35cm-high runway approach light, which was 29m beyond the end of the runway.
The broken light was noted by airport operations staff who inspected the runway after take off.
The report found that neither the flight's commander or the tour operator reported the incident to the AAIB.
'Lack of barriers'
However, the aircraft's operator did make a report to the Transportation Safety Board in Canada.
Later that night, air traffic control staff at the airport filed a Mandatory Occurrence Report (MOR) and sent a telecommunications signal to a number of organisations, including AAIB.
But the signal was sent on a system that the AAIB only monitors during office hours, and it was not read until 07:13 BST on 24 July 2017.
The report said: "The seriousness of the potential outcome, and the lack of barriers remaining to prevent it had the event escalated, persuaded the AAIB that this was a significant event requiring an in-depth investigation."
The AAIB worked with the aircraft operator to investigate how an incorrect thrust setting may have been programmed into the Flight Management Computer (FMC).
The report said that the "only credible way" for insufficient thrust to have occurred was because an incorrect outside air temperature had been entered into the flight management computer.
A Thomson spokesperson said the company had taken "an active role in the investigation, alongside airline partner Sunwing".
The spokesperson added that the "health and safety of our customers is of paramount importance and we will work closely with Sunwing to ensure lessons have been learnt".