Brexit: Verhofstadt rejects UK proposals for Irish border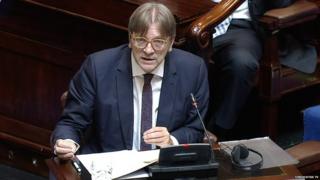 The European Parliament's Brexit negotiator, Guy Verhofstadt, has said that the British government's proposals for the Irish border are not possible.
Speaking in the Irish parliament, he said the problem could not be solved with a number of technical features.
"I have always thought that if a border is not visible, then it is no border," he said.
Mr Verhofstadt also said protection of the Good Friday Agreement had not been sufficiently considered in Britain.
"You can count on the European Parliament to defend the integrity of the Good Friday Agreement in all its parts," he said.
'Nonsense'
Mr Verhofstadt said the British Foreign Secretary, Boris Johnson, was talking nonsense by criticising pro-Europeans in the UK for having split allegiances.
"I think it's nonsense to talk about split allegiance," he said.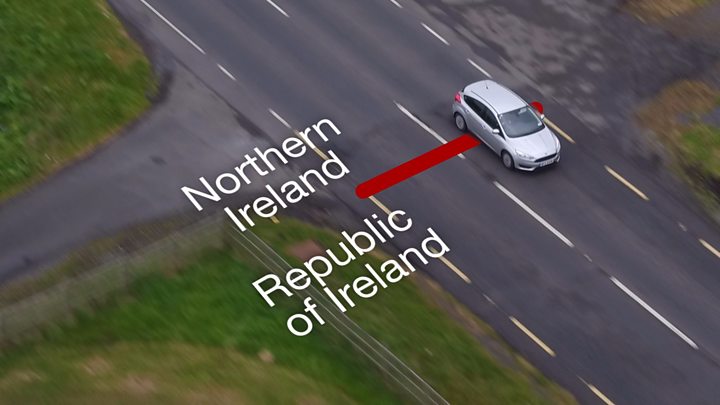 "It's perfectly possible, I think - I never practice it - but to feel English, British and European at the same time," he added.
The MEP will meet Taoiseach (Irish prime minister) Leo Varadkar later.
It comes as part of a two-day visit to Ireland.
On Wednesday, Mr Verhofstadt visited Northern Ireland and met political leaders at Stormont.
He warned that the UK must find a way to avoid new controls on the Irish border post-Brexit.
His position echoes that already laid out by the EU's chief negotiator, Michel Barnier.
Mr Verhofstadt, a former Belgian prime minister, is the link between EU negotiators and MEPs.
Although he is not directly involved in the Brexit negotiations, any deal between the EU and UK will need to be approved by the European Parliament.
During his visit to Northern Ireland, Mr Verhofstadt also met business and community leaders in the Armagh-Monaghan border area.