Portaferry man gets animal ban for toenail overgrowth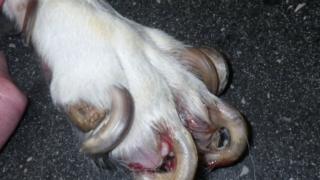 A County Down man has been given a lifetime ban from keeping any animal after being found guilty of causing unnecessary suffering to his dog.
Daniel Gerrard Taggart of Rockfield Drive, Portaferry, was also given a suspended sentence.
His dog was seized from his house by Ards and North Down Borough Council's animal welfare officer in January 2016.
A vet reported it was the worst case of toenail overgrowth he had seen, in more than 13 years of practice.
The vet estimated that the nails would have taken at least 18 months to get into the condition they were in, making it highly unlikely that the dog received any exercise in a long time.
Taggart was also found guilty at Newtownards Magistrates' Court of failing to take reasonable steps to ensure that the needs of the dog were met to the extent required by good practice.
He received a lifetime ban from keeping or having any involvement with any animals and was handed a custodial sentence of three months suspended for 12 months. Taggart was ordered to pay costs, totalling £963.27.
The magistrate said that he must send a clear message out to the public that "this behaviour will not be tolerated".
He accepted the mitigating factors given on behalf of the defendant, but said that regardless of what any person has to deal with in life, if they are responsible for the care of an animal, then they must meet all of its needs.
Commenting on the case, David Lindsay, Director of Environment for Ards and North Down Borough Council, said the conviction "underlines the council's zero tolerance approach to animal cruelty and neglect".
The golden labrador dog was placed with the Animal Connexions charity and has since been rehomed with a family.