Northern Health Trust cuts will see 65 beds close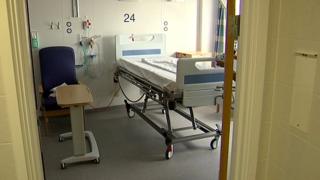 About 65 hospital beds will go across the Northern Health Trust as a result of proposed cuts to services, the trust has said.
A public meeting, in Newtownabbey on Thursday, was organised to give the public a say about proposed savings.
A majority of the beds - 44 - will go at Whiteabbey Hospital. The cuts, which management say are temporary, could come as early as November.
Northern Ireland's five health trusts have to deliver £70m worth of savings.
The Northern Health Trust share of that will be about £13m.
In a £5bn budget, that sum is not hugely significant. However, some of the cuts will impact deeply on men and women who are ill and vulnerable and require treatment.
The proposed cuts would mean:
2,400 fewer non-urgent elective procedures such as ENT surgery and gynaecology services.
Fewer locum doctors and agency nurses
The temporary closure of at least 20 acute hospital beds and 44 rehabilitation beds
Ruth Irvine, who was in the audience, said she was there to speak up for her seriously ill husband.
"My husband has cancer and Parkinson's. He is very ill. We rely on the services and care at Whiteabbey Hospital - if those beds go where will he go?
"Sometimes when the service is under pressure we have to take a train, a bus and then a taxi to go elsewhere. He's too old and too ill."
More than 200 people attended the meeting at Mossley Mill.
Unison's Stephanie Greenwood said the public would not take the proposals lying down. She said patients should not be used as pawns in the political games going on at Stormont.
A handful of politicians were in the audience, however, the public clapped and jeered when it was said that the lack of a Stormont Executive had brought about the need for cuts.
One of the most significant headlines to emerge is the temporary closure of the 44 rehab beds at Whiteabbey Hospital.
While the trust says staff who normally work in this area will be temporarily deployed to Antrim Area hospital, there's concern over where patients will go and the impact that move would have on the future of Whiteabbey Hospital.
Dr Seamus O'Reilly said that while the hospital might change in the future, it would not be closing.
"These cuts could happen in winter when the system is usually under the most pressure," he said.
"While we will do our best to deliver a safe and efficient service the reality is we may have to close our doors to some patients."
There are also proposals to cut domiciliary care packages and an increase to car parking charges.
The latter will provide the health trust with about £75,000. That money will go towards making savings as opposed to investing the money in services.
These are just proposals and are open to consultation, but for that to work the health unions stress that the public need to engage.