Stormont crisis 'causing despondency', says business leader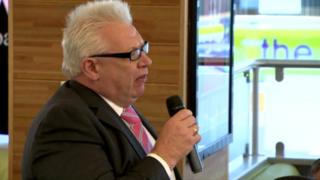 A senior business leader has called on politicians to stop blaming each other for the Stormont stalemate and to get on with restoring the assembly.
Noel Brady of the Institute of Directors aimed the criticism at Sinn Féin adding it also applied to the DUP.
Speaking at a business breakfast in west Belfast, Mr Brady said there was widespread "despondency".
Sinn Féin vice-president Mary Lou McDonald replied that she believed a deal between the parties was possible.
Robust exchange
In a robust exchange, Mr Brady said public services were suffering and something needed to be done.
After the meeting, Ms McDonald said she did not interpret the remarks as a stinging criticism.
"I understand the concerns that there are across the business sector here in the north. I've no interest in blame - in the blame game nobody wins," she said.
Speaking at the same event, Ms McDonald said a referendum on a united Ireland within five years was "achievable and winnable".
She said that the reunification of Germany showed that countries that were partitioned could be reunified.
The Irish parliamentarian said: "We will be bringing forward a white paper on Irish unity, and we want to see a referendum on unity in the next five years.
"We believe that this is achievable and winnable. We also believe that this should be government policy."
Ms McDonald said that Brexit reinforced the need for Irish unity.
She said that Prime Minister Theresa May needs to negotiate a deal with the EU that avoids a land border within Ireland.
"Designated special status for the north to remain in the EU will ensure that Ireland is treated as one single entity in the EU," she added.
"It must also mean no land border and that the north remains in the Customs Union and the Single Market, even in the event that the Tories are unable to secure such an agreement for Britain."
Northern Ireland has effectively been without a devolved government since January.
Its institutions collapsed amid a bitter row between the DUP and Sinn Féin about a botched green energy scheme.
Several rounds of talks have failed to reach an agreement.