Mild weather helps Red Admiral butterfly births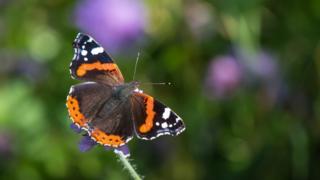 One of Northern Ireland's most colourful butterflies has seen its numbers increase significantly this summer.
The Red Admiral had a good year, helped by a mild winter and a fine spring.
The good weather meant there was a healthy breeding population which produced lots of offspring.
The over-wintering population was boosted by migratory Red Admirals from southern Europe.
The statistics are from the results of an annual survey of butterflies in mid-summer.
The Red Admiral was the fourth most common butterfly in Northern Ireland this summer, with 450 spotted during the Big Butterfly Count.
People were asked to monitor their local area in short survey windows during July and August.
The most commonly sighted butterfly was the Small White, which was spotted 850 times.
Sixty thousand people across the UK took part in the count and recorded seeing more than 550,000 individual butterflies.
Participants here recorded fewer individuals per count than last year, with an average of 10 butterflies seen in each 15-minute survey period.
Butterfly Conservation said that was probably due to the wet summer weather.
Its head of recording, Richard Fox, said there had been some "real positives" for butterflies in Northern Ireland.
"The highlight of Big Butterfly Count 2017 has been the huge number of people that have got involved, spent time enjoying and counting our native butterflies and moths and done something useful and important in the face of so much wildlife decline," he said.
More than three-quarters of the UK's butterflies have declined in the past 40 years with some common species like the Small Tortoiseshell suffering significant falls.