DUP appoints former special adviser Timothy Johnston to party post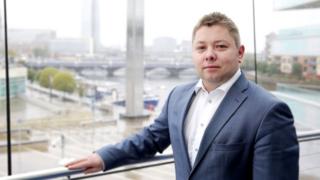 The DUP has appointed Timothy Johnston to the newly-created post of chief executive officer.
He is a former special adviser (SPAD) to three first ministers: Ian Paisley, Peter Robinson and Arlene Foster.
He is one of two advisers ex-minister Jonathan Bell claimed would not allow the Renewable Heat Incentive (RHI) scheme to close in early-autumn 2015.
Mr Johnston has rejected that allegation, made under parliamentary privilege in the assembly.
At the time the DUP said the claims were "outrageous".
Party leader Arlene Foster said the new post had been created "to assist in driving the organisation forward in areas of strategy, policy development, communications and administration to achieve continued and sustained expansion of the party".
Mr Johnston said he was delighted by the appointment.
"I have been associated with the party in various roles for the last 16 years and I look forward to the new opportunities and challenges that lie ahead," he said.
As an adviser to Mrs Foster, Mr Johnston was paid the maximum salary allowed for a special adviser, £91,809.