Siblings set new records at Lurgan Golf Club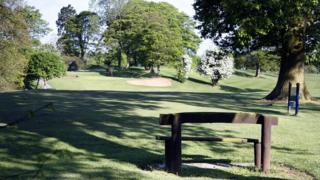 It has been an unusual year for Lurgan Golf Club as a brother and sister have both managed to beat the standing male and female course records.
The club was founded in 1893 and is currently nurturing some up and coming young talent.
The men's record, held by Timmy Cummins for 27 years, was beaten this summer by Michael McSherry, 22, who shot a 62.
His achievement comes just months after his sister Niamh, 19, shot a 69, to break the standing ladies' record.
Niamh, who has played for Ireland, is currently on a golf scholarship at Kansas State University in the US.
Michael, an economics and accountancy student, has been playing golf for 14 years and said it is still hard to believe that he is now part of the club's history after breaking the men's record by two shots.
"It feels pretty surreal to be honest," he said.
"It had been a goal of mine [to break the record] but I didn't think it was a realistic one if I'm perfectly honest.
"I just started playing well during the round and at one point I was thinking if I get another couple of birdies I can do it.
"The previous holder has been very modest about it all."
Family affair
Sport clearly runs in the blood considering the similar achievement of his sister Niamh, who has been playing golf since she was eight.
"My dad and my uncles play, as do my grandparents and they've all been a big part of the success I have achieved through golf," she said.
"Without my family I wouldn't be where I am today.
"A lot of people have asked me and my brother if there is an element of sibling rivalry and of course there is, but I am very proud of Michael for breaking a record that stood for so long."
Next big stars?
Asked if they both want to turn professional, the McSherry siblings gave a mixed response.
Michael said he would "need to do a whole lot better", while Niamh said it is something she aspires to do.
"Of course I would like to turn professional, but I am going to see how the next four years here go, and if it doesn't work out for me to turn pro, I want to become a PE teacher in a secondary school," she told the BBC from Kansas.
Members of Lurgan Golf Club are said to be immensely proud of the talent coming out of the club, with several members currently on state-side scholarships and competing regularly.
Club captain Chris Stevenson said it is a testament to the role local clubs play in nurturing talent.
"Michael is one of our best players. Niamh is coming from a group of young female players who have come up through the ranks and who are continuing to be very successful," he said.
"For both records to be broken in 12 months, it's never been seen at Lurgan Golf Club, possibly not even in Northern Ireland."
As for Michael and Niamh, both are happy to be part of the club's already long history and hope their records remain unbeaten.