James Brokenshire 'should represent NI in Brexit talks'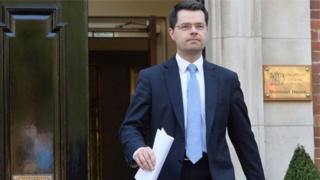 The Ulster Unionist MEP Jim Nicholson has called on the Secretary of State James Brokenshire to speak for Northern Ireland in future Brexit discussions.
Mr Nicholson told the BBC Sunday Politics programme that other parts of the UK were actively involved in talks.
He said the absence of an executive meant that the Northern Ireland secretary had to step in.
Northern Ireland's main parties have been unable to make a deal since power-sharing collapsed in January.
Mr Nicholson said: "If we are not going to have an executive, then the secretary of state is going to have to step up to the plate and represent Northern Ireland."
The Brexit secretary David Davis said in July that the lack of a Stormont was "slightly problematic" in terms of trying to resolve the future of the Irish border.
Political leaders in London, Dublin, Brussels and Belfast have all said there should be "no hard border" and "no return to the borders of the past".
However, so far there have been no firm proposals on how to achieve that when Northern Ireland is outside the customs union and single market and the Republic of Ireland remains inside.
Mr Nicholson said that while negotiations continue, Northern Ireland does not have an active voice.
"London is active, Scotland is active, Wales is active - there is nobody speaking for Northern Ireland.
"This is one of the big problems that we now face and it is up to the politicians in Stormont.
"This will change our relationships right across Europe and it is of major importance we in Northern Ireland have our input into it."
Irish MEP Brian Hayes said it was vitally important that an executive is formed so that it can "work with the UK and the Irish governments, and the EU negotiators, to get the best outcome".
Northern Ireland has effectively been without a devolved government since January.
Its institutions collapsed amid a bitter row between the DUP and Sinn Féin about a botched green energy scheme.
Several rounds of talks have failed to reach an agreement.