NI newspaper review: Four weddings and pig-head insult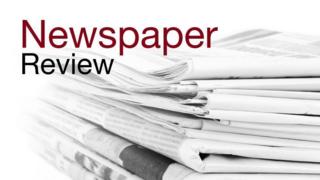 The weekend murder of a teenager in Londonderry features prominently in all of Monday's papers.
Jordan McConomy, 19, died after an "altercation" in William St in the early hours of Sunday morning.
The Irish News reports a man is being questioned after "handing himself in" but the Daily Mirror says the suspect was arrested at a house near the scene.
On its front page, the Mirror has another disturbing story about a "horror window plunge" in Donaghadee.
It reports that a 21-year-old man is fighting for his life in hospital after police found him lying unconscious on a pavement on High Street.
The paper believes the man had spent the evening in an upstairs flat before he sustained critical head injuries.
There is universal condemnation in the papers of a racist attack in east Belfast, in which a pig's head was dumped at a community centre.
Swastikas and the phrases "no Muslims and "no blacks" were also discovered daubed on Inverary Community Centre on Saturday.
The News Letter says the nearby East Belfast Football Club issued a statement expressing anger that the centre next door had been vandalised.
"We have players from all ethnic backgrounds playing for our club and we reject all forms of racism and sectarianism," says the club.
Hopes of a breakthrough in the deadlock at Stormont make the front pages of both the Belfast Telegraph and the News Letter.
The Telegraph says Sinn Féin leader Gerry Adams "appeared to soften his tone" in a weekend speech, saying his party was "up for doing a deal with the DUP".
The News Letter quotes the DUP's Simon Hamilton welcoming the speech as a "step forward".
But in reference to Sinn Féin's demand for an Irish language act, Mr Hamilton warns the DUP "will not accept cultural supremacy for one section of our community".
'Fingernails pulled'
There is no softening of tone for one Sinn Féin representative in Fermanagh and Omagh Council, however.
Sheamus Greene declined a invitation to nominate recipients for next year's Queen's Birthday Honours list.
According to an email seen by the Belfast Telegraph, Mr Greene replied he would "rather have my fingernails pulled out with pliers".
"But everybody to their own. Kind regards," the councillor wrote.
Mr Greene told the paper his remark had been "tongue-in-cheek" but it was too cheeky for the Ulster Unionist Party who accused him of "total disrespect" .
In other council news, the Irish News reports on a "Donald Trump-style" wall which has been erected outside Cookstown, County Tyrone.
'Prison yard'
One woman complains to the paper that she retuned from holiday to find a new wall about 16ft (5m) high along the perimeter of a local engineering firm.
Residents have claimed it makes their area look like a "prison yard".
The paper says Mid Ulster Council is investigating reports that the wall is almost 6.5ft higher than planners approved.
Gloria Hunniford was once placed on an IRA "death list", according to the Daily Mirror.
She was warned of a threat after her radio show recorded "morale-boosting messages" from the families of soldiers stationed in Northern Ireland during the Troubles.
Marking the release of her new autobiography, Ms Hunniford describes how she was taught how to check under her car for bombs.
Pitch-side proposal
Romance must be in the air as several of Monday's papers have tales of marital bliss and wedding day jitters.
The Irish News features a surprise "pitch-side proposal" at the GAA All-Ireland Ladies Junior Football Final on Sunday.
Derry player Ciara McGurk was giving a post-match interview when her boyfriend got down on one knee and popped the question.
Another committed GAA player tells the paper she postponed her honeymoon to play in a camogie county final match on Sunday.
Katrina Kinsella tells the paper: "I was incredibly nervous about getting married... but still in my head I was thinking about today's game - that just shows you how important camogie is in my life."
The Belfast Telegraph reports on how a County Tyrone bride's dream wedding turned into a nightmare as she spent her wedding day in hospital being violently sick.
Ciara Keenan was unable to attend her own wedding reception after she was struck down with painful stomach ulcers.
She tells the paper she and her new husband had spent their "life savings for a party that we missed".
Marital routines
Prospective brides should perhaps take a lesson on keeping it simple from a County Antrim couple who know the secret to a long and happy marriage.
Childhood sweethearts Joe and Nellie Graham celebrated their 75th wedding anniversary at the weekend and their enduring romance has caught the eye of all the papers.
The couple married in 1942 and spent their honeymoon in a Portrush bed and breakfast.
For almost seven decades, they marked their wedding anniversary with a trip back to the same B&B.
Joe, 99, says their daily routine of sitting down together to a bowl of porridge for breakfast has helped them stick together.
House-proud Nellie, 98, advises young brides not to waste their money on a big wedding and invest in their home instead.
Their grand-daughter tells the Belfast Telegraph: "She says it's just too much money to spend on one day."