Police car damaged in Newry fireworks attack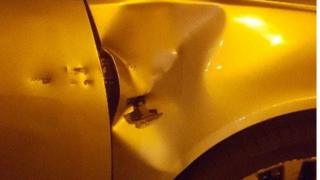 A police car has been taken out of service after youths in Newry attacked it with bricks and fireworks.
The incident happened on Sunday night as officers were conducting enquiries following a call for assistance from the community.
Two police vehicles were attacked as they left the Carnagat area, said the PSNI's Newry and Mourne in a Facebook post.
The incident had put officers and residents at risk, said police.
"This behaviour could have caused serious injury not only to the police officers involved but also to the local community," said a PSNI spokesperson.
"This behaviour needs to stop."
Meanwhile, in a separate incident on west Belfast Falls Road on Saturday night, two buses had windows were attacked with stones, and a taxi was hit by a brick.
Police said the attack, which led to the cancellation or diversion of buses, happened after a crowd of youths returned to Falls Park between 21:15 and 21:30 BST.
Two 15-year-old boys were arrested in relation to "riotous assembly".
Earlier on Saturday, at about 18:40, police officers seized several units of alcohol and carried out multiple stop and searches under misuse of drugs legislation after "a large crowd of young people had gathered in Falls Park and were drinking and playing loud music".