Lisahally Power Plant: No injuries in steam explosion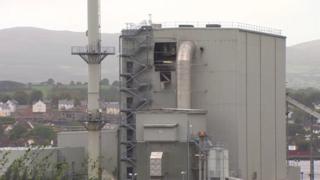 An investigation is under way after a steam explosion at a power plant in Londonderry.
Firefighters were called to Lisahally Biomass Power Plant near Londonderry Port at 19:30 BST on Sunday after reports of a ruptured steam pipe.
Several fire engines attended the scene. No-one was injured.
The Northern Ireland Fire and Rescue Service said some aluminium panelling was damaged by the explosion on the seventh floor.
Lisahally power station is capable of generating electricity for 25,000 homes and businesses in the area.
There have been no reports of any power cuts.
Fire commander Mark Watson said: "After the area was cleared, fire service personnel, along with on-site safety personnel, inspected the area and we believed the cause of the ruptured steam main to be accidental.
"It's not 100% clear at this stage - there will be further investigations carried out by on-site safety personnel."
A spokesperson for Lisahally power station said: "We would like to thank the Northern Ireland Fire and Rescue Service for its professionalism and quick response.
"A review of the incident will be carried out by our engineers in consultation with statutory agencies.
"Our on-site team is working to bring the plant back online as soon as possible."
SDLP MLA Mark H Durkan praised the "great work" of the fire service in a post on Twitter and said it was "good news" that no one was injured.