Weeping Window poppies on show at Ulster Museum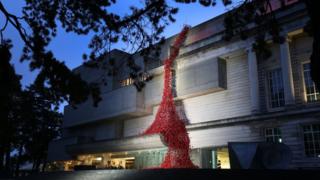 It was the poignant sculpture, sweeping around the Tower of London, that put into striking perspective the colossal scale of loss in World War One.
Almost 900,000 red, ceramic poppies - each one handmade to represent every British and Commonwealth life lost - filled the moat at the Tower in 2014.
Now the Weeping Window aspect of that installation has reached Belfast, cascading from the Ulster Museum.
Thousands of people are expected to view the "deeply moving" exhibit.
Its four-year run across the UK coincides with the centenary of the outbreak and conclusion of World War One, as well as key battles that shaped its outcome.
The Belfast leg of the poppies' tour will run from Saturday until 3 December and has been brought about as part of the Belfast International Arts Festival.
Its director said the sculpture is a reflection on loss of life in the conflict of World War One rather than a glorification of war.
About 210,000 men from Ireland served in the British forces during World War One, and some 35,000 of those were killed.
"Poppies are for many, particularly in Ireland, a potent if not controversial symbol," added Richard Wakely.
"The wonderful, very beautiful and iconic artwork has created such a sensation around these islands and it was important to bring it to Northern Ireland.
"We hope that communities across the island will choose to engage with this artwork and join us to discuss its impact and meaning."
The original Tower of London installation, entitled Blood Swept Lands and Seas of Red, used 888,246 poppies.
Volunteers spent months installing the poppies, and five million people are thought to have visited it.
It had been dreamed up by Paul Cummins, an English ceramic artist. Tom Piper, a theatre designer, joined him to put the piece together.
The idea had been inspired by the will of a woman who fought in World War One, said Mr Cummins.
The poppy is a more divisive symbol in Northern Ireland than it is in the rest of the UK, with many nationalists and republicans associating it with a sense of Britishness.
But Mr Cummins hopes Weeping Window will be received positively in Belfast.
"Hopefully it's taken in the context that it was made for - it is to celebrate everybody who fought," he added.
"Everybody is invited to give their own view, whether it's negative or good - art should provoke a reaction, whatever way it goes."
The Weeping Window in Belfast is made up of almost 6,000 poppies, all individually placed on a metal framework running down the museum's facade.
The scarlet sweep is a metaphor for the blood shed by those who died in World War One, said Mr Piper.
"Hopefully it makes you question the cost of war, the value of lives lost and what that means to us now," he added.
The arrival of the "spectacular, deeply moving" artwork will open up a new perspective on wartime history for those who see it, according to Kim Mawhinney, the head of art at National Museums NI.
"We have never shied away from using art as a way of looking at our recent past," she added.
"Even when we were installing the work over the last week, the public have been coming up and are wowed by the spectacle of how beautiful it looks."