Ex-Assembly speaker Alderdice says Newton should resign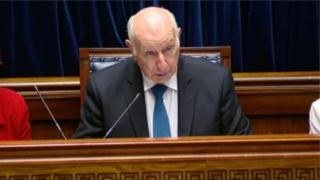 The former Stormont speaker Lord Alderdice has called on Robin Newton to stand down following this week's BBC Spotlight programme.
The programme claimed that Mr Newton, the current speaker, misled MLAs about the true nature of his role with a UDA-linked community organisation in east Belfast.
Mr Newton denied misleading the Assembly.
He said he had never been appointed to any position with Charter NI.
Lord Alderdice served as Stormont speaker between 1998 and 2004.
Interviewed for BBC Radio Ulster's Inside Politics programme, he described Robin Newton's position as "not tenable".
He said when an MLA becomes speaker, "they have to leave their own politics, their own party, their own attitudes to the side, in order to strengthen the Assembly.
"I have a feeling Robin Newton never really realised this and never understood what the role of the speaker is."
Lord Alderdice said the controversy over Mr Newton's involvement with Charter NI was "very damaging for the Assembly, particularly at a time when it is not meeting and the speaker should be there to give a morale boost to the staff", so they are ready for when the politicians might return.
Asked if Mr Newton's confirmation that he would not stand again for election as speaker was sufficient, Lord Alderdice said it was "long past the time when he should have voluntarily stepped down".
'Right thing to do'
The former SDLP leader Margaret Ritchie also told Inside Politics Mr Newton should resign immediately.
Ms Ritchie said that would be "the right thing to do and what the public expects him to do".
As social development minister back in 2007, Ms Ritchie withdrew £1m in public funding to an UDA-linked Conflict Transformation Initiative.
A judge subsequently ruled that Ms Ritchie's decision had broken executive rules.
Ms Ritchie told Inside Politics she believed this week's Spotlight programme provided "overwhelming evidence" that the government should not be giving money to groups linked to paramilitary organisations that are still involved in criminality.
The former minister said she did "not believe in appeasement of paramilitarism", and repeated her view that the controversial Stormont Social Investment Fund was a "slush fund which should never have been devised, but was simply a power grab, which was a characteristic feature of the then DUP-Sinn Féin Executive".
Ms Ritchie lost her South Down seat to Sinn Féin's Chris Hazzard in the Westminster election in June.
She told Inside Politics the last few months had been very difficult as politics had been her way of life.
Ms Ritchie told the programme she was looking for other employment opportunities, but was not ruling out standing again for elected office, insisting her political career was not over.
As SDLP leader, Ms Ritchie ruled out any talk of a merger with Fianna Fail. She confirmed to Inside Politics that a possible merger was again the subject of an internal conversation within the SDLP.
Ms Ritchie said she had an open mind on the discussions.