Hundreds attend Belfast abortion rally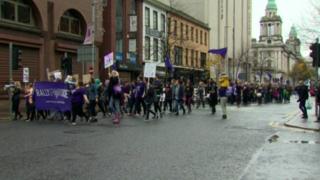 Hundreds of people have marched through the streets of Belfast demanding a change to Northern Ireland's abortion laws.
It is the second Rally for Choice to be held in Belfast.
Northern Ireland's abortion law is much stricter than the rest of the UK.
Terminations are only permitted if a woman's life is at risk, or there is a permanent or serious risk to her mental or physical health.
Rape, incest and fatal foetal abnormalities are not circumstances in which abortions can be performed legally in Northern Ireland.
In June the government announced that women from Northern Ireland will be able to get free abortions in England.
The rally on Saturday began at 14:00 BST at Buoy Park in Belfast city centre.
A spokesperson for Rally for Choice said: "While we welcome the introduction of free abortions to those who have to travel it's not good enough and we won't stop campaigning until we have free, safe and legal abortion on the island of Ireland.
"No longer will we tolerate this treatment from Stormont," they added.