Storm weather warning issued for Northern Ireland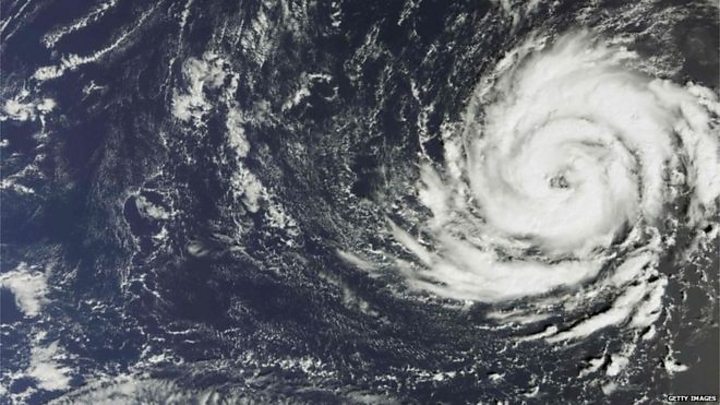 A weather warning has been issued for Northern Ireland as Hurricane Ophelia makes its way across the Atlantic.
The Met Office said winds of between 55mph (89km/h) and 65mph (105km/h) are likely across the region, particularly during Monday evening's rush-hour.
It added that "damaging winds" have the potential to pose "danger to life" due to the likelihood of flying debris.
All schools, colleges and courts in the Republic of Ireland will close on Monday due to the risk the gusts pose.
Hurricane Ophelia will be a storm when it hits Ireland and the UK as it weakens on its path across the Atlantic Ocean.
But national weather services in both countries have issued alerts about severe weather.
The Met Office said its warning is of a less severe grade than that of Met Éireann because their systems for gauging the alerts differ.
Met Office warnings outline the likely impact of weather, whereas Met Éireann issues its alerts when forecasted weather meets certain risk levels.
In Northern Ireland, the Met Office's amber warning will take effect from 15:00 BST on Monday, lasting until 22:00.
Gusts in the far south-east of Northern Ireland could reach speeds of between 70mph (112km/h) and 80mph (129km/h).
"There is the potential for damage to trees, there could be a danger to life from flying debris," said John Wylie of the Met Office.
"A very stormy period is to come on Monday evening."
NIE Networks, which controls Northern Ireland's electricity network, said it is preparing to move emergency crews to areas worst affected by the storm.
Anyone who experiences a power cut should report it online or by contacting the 24-hour helpline on 03457 643643.
'Violent and disruptive'
The Irish national weather service Met Éireann had initially issued a red warning - its most serious - about the storm winds for counties Clare, Cork, Galway, Kerry, Limerick, Mayo Waterford and Wexford.
It extended that to a country-wide warning on Sunday evening.
It said "violent and descriptive gusts are forecast with all areas at risk".
"Heavy rain and storm surges along some coasts will result in flooding," it added.
The Irish national emergency co-ordination group met on Sunday to discuss preparations for Hurricane Ophelia.
Irish Prime Minister Leo Varadkar said the country's defence forces are being deployed to the areas that are expected to be worst hit.
The south and south-west of the country is due to be hit by winds in the morning, with eastern counties feeling their force in the afternoon.
---
Are you affected by Hurricane Ophelia? E-mail your stories and pictures to haveyoursay@bbc.co.uk
Please do not put yourself in any danger to take images and please heed all safety warnings.
You can also contact us in the following ways: