PSNI chief constable 'confident' on ombudsman probe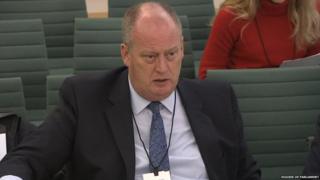 The PSNI chief constable has predicted that he and his colleagues will not be found responsible for any misconduct or criminal activity.
George Hamilton and his deputy Drew Harris are under investigation for alleged misconduct in public office and criminality that could amount to conspiracy to pervert the course of justice.
Assistant Chief Constable Mark Hamilton is also under investigation.
The men deny the allegations.
Mr Hamilton told the House of Commons NI Affairs Committee there may be some findings regarding non-compliance with police policies.
However, the chief constable said he and his colleagues are confident about the final outcome of the police ombudsman's investigation.
Police records
Mr Hamilton told the MPs that he was concerned about the speed of the ombudsman's investigation.
He said he had been accused of re-writing police records - something he denies - but those records were still sitting in his safe.
Mr Hamilton expressed concern that when the investigation ends in, say, 18 months time it might not get the same level of publicity as it did when it began.
He also told committee members he was fearful that any hard border between Northern Ireland and the Irish Republic after Brexit could be exploited by organised criminals and dissident republicans who might target any border installations.
The chief constable told the MPs the police would do their job whatever happened, but policing is more effective if there is a functioning local executive.
Mr Hamilton repeated his concern about the lack of meetings of the Policing Board, and having to cope with a month-to-month budget.
He said the absence of a justice minister had prevented a "modest pay rise" being paid to frontline officers. It also stopped the introduction of coercive control orders to deal with domestic violence.
Legacy cases
Regarding the legacy of the Troubles, the chief constable said he would never shirk his responsibility but did not think he should be asked to take resources away from dealing with current threats in order to tackle legacy matters.
He gave MPs an example of a recent requirement to take 16 detectives away from investigating current crimes in order to deal with court orders requiring the disclosure of documents regarding past cases.
Mr Hamilton said he had about 250 staff working every day on legacy matters.