Brokenshire orders review into Stormont MLAs' pay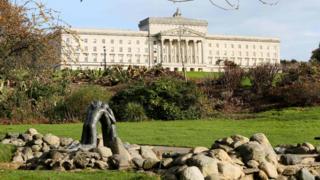 A review into the pay of members of the Northern Ireland Assembly, which has not been functioning since January, has been ordered by the secretary of state.
James Brokenshire said he has asked a former clerk of the assembly, Trevor Reaney, to conduct an independent assessment of MLAs' salaries.
He requested a report by 15 December.
Ninety MLAs who were elected in March, are continuing to receive their full salary, even though the assembly has not met to appoint a new executive.
Northern Ireland has been without a devolved government for almost a year, due to a dispute between the two biggest parties - the DUP and Sinn Féin.
Their coalition collapsed in January, and despite months of negotiations, they have not agreed a deal to restore power-sharing.
"I know that many in Northern Ireland are concerned that full salaries continue to be paid to assembly members despite the impasse," Mr Brokenshire told the House of Commons.
"I understand that concern, but I recognise too that, in fact, many of those elected have been desperate to serve since March and have continued to provide valuable constituency functions in the meantime."
He said that was why he had asked Mr Reaney to perform the review.
"He will provide an independent assessment of the case for action and the steps he would consider to be appropriate and will report back to me by the 15th of December," he said.
"This will not pre-judge any particular course of action, not least as further steps would require primary legislation.
"But his advice will help inform the best way in which to proceed."