Pipe bombs found in Londonderry security alert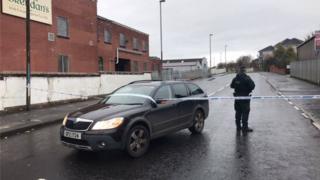 Two pipe bombs have been removed following a security alert in Londonderry's Waterside.
The alert began after the objects were discovered at Montgomery Close at about 13:30 GMT on Monday.
Part of the Rossdowney Road was closed and a number of homes were evacuated as Army bomb experts examined the devices and declared them viable.
The road has since reopened, but police said the local community had had their lives disrupted by the alert.
"Thankfully, no-one was injured because of the reckless actions of criminals who showed absolutely no regard for the community by placing two potentially deadly devices in a built-up area," Insp Jonny Hunter said.
"I urge the public to remain vigilant. If anyone finds anything suspicious please do not touch it - phone the police immediately.
"I am appealing to anyone with information about this incident to please tell us, because it is only with your help that we can make our communities safer."
DUP councillor Drew Thompson condemned those behind the alert.
"My immediate thinking is that these were left to cause death or serious injury. Considering this is a built up area, it is even more sinister and concerning," he added.