Warning over public sector corruption in Northern Ireland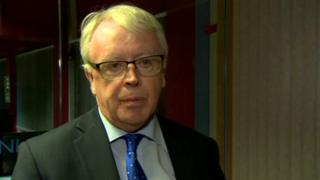 Members of the public who have concerns about bribery or corruption in the public sector have been urged to report them to the auditor general.
His office has published a new set of guidelines that highlight key risk areas and offers advice on how they can be countered.
The areas include planning, grants and procurement.
Kieran Donnelly, the comptroller and auditor general, said it was important to guard against complacency.
"While the risk of bribery and corruption in Northern Ireland may be considered low, it is still present and should not be underestimated," he said.
"Complacency carries its own dangers; raising awareness is the key."
Mr Donnelly said the nature of much of public sector business carries inherent risks.
"Functions such as procurement, planning, grant administration and regulatory functions are widely recognised as being open to the risk of bribery and corruption," he added.
"The guide provides advice on identifying and mitigating those risks.
"It is essential that all public officials and elected representatives are aware of their responsibilities in countering the risk of bribery and corruption."