NI newspaper review: Budgets, shootings and 'stalking'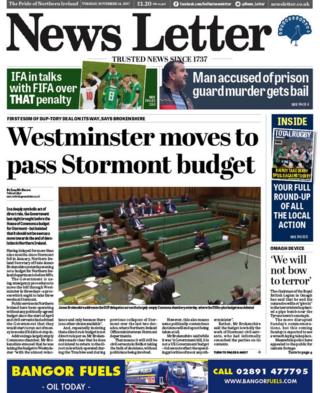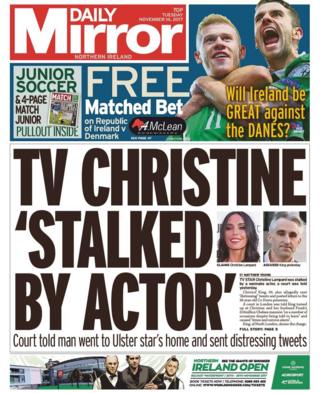 Money may be "the mother's milk of politics", but it is also the star feature across Tuesday's front pages.
On Monday, the government brought forward a budget bill for Northern Ireland to the House of Commons.
It passed without vote and will progress to the House of Lords on Tuesday.
The News Letter reports that the move was "a deeply symbolic act of direct rule" - a claim firmly denied by the government.
Speaking in the House of Commons, Mr Brokenshire said the passing of budget legislation "should not be a barrier for the negotiations to continue, but the ongoing lack of agreement has had tangible consequences for people and public services in Northern Ireland".
The move comes after the Democratic Unionist Party (DUP) and Sinn Féin failed to reach a deal in political talks.
Meanwhile, the front page of the Irish News reads: "Anger as Brokenshire signs off on £25m for 'disgraced' fund".
As part of the new budget, the secretary of state made two allocations - £11.4m and £14.2m - to the controversial Social Investment Fund (SIF), according to SDLP leader Colum Eastwood.
The programme was designed to aid projects targeting social need and deprivation.
Mr Eastwood wants to know if funds for the "universally disgraced" Stormont scheme had been prioritised over health, education and victims.
He claimed that Mr Brokenshire had merely "rubber-stamped" an allocation identified by the former finance Sinn Féin minister Máirtín Ó Muilleoir.
"People on hospital waiting lists, schoolteachers and victims of institutional abuse deserve to know if any minister prioritised this scheme over them," he said.
However, Mr Ó Muilleoir told the Irish News that Sinn Féin had highlighted "abuse of state funding" in loyalist areas including abuses of SIF funding.
"If they (the SDLP) have issues with Mr Brokenshire's budget, they should raise those with Mr Brokenshire," he added.
'No justice'
The Belfast Telegraph reports that the funeral of Leslie Ross, who was accused of murdering two ex-girlfriends five years apart in County Down, has taken place.
Yvette Sparks' sister, Michelle Bickerstaff, was one of Mr Ross' alleged victims.
She told the paper: "That's it over. But nobody got justice."
The stonemason from Dromore, County Down, was found not guilty of murdering Margaret Weise, 50 and Michelle Bickerstaff, 47.
He had also been charged with the murder of a third former girlfriend, 52-year-old Lily McKee, but that case never went to full trial.
The 70-year-old died of cancer last week.
'Three stitches'
A man claims he has been bitten on the ear by a dog in Castlewellan Forest Park, County Down, reports The Daily Mirror.
He told the paper it happened after he was trying to save his grandmother's dog from the attention of another dog which was being walked in the same area.
"This woman's dogs came over and started to attack us. She had no control over them as they were off the lead," he said.
"I have to get three stitches to put my ear back together."
Call for information
The Irish News reports that there has been a "significant rise" in gun attacks in Londonderry.
A 44-year-old man was shot in the leg in a paramilitary-style shooting in the city on Sunday - the 15th attack this year.
The attack which took place at Madams Bank Road in the Shantallow area is the second shooting in less than a week.
Chief Insp Alan Hutton said: "It's quite clear that the people behind this are seeking to exercise control and fear over a community."
The Daily Mirror reports that a man has appeared in court charged with stalking TV presenter Christine Lampard.
Christof King is said to have appeared at the star's home and sent "distressing" tweets and posted letters.
He denies all charges and is due to appear in court again next month.