2023 Rugby World Cup: Ireland hoping to win hosting vote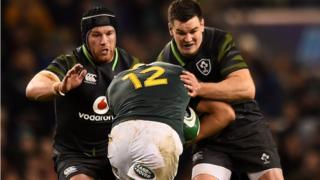 Ireland will find out later whether its bid to host the Rugby World Cup for the first time in 2023 has been successful.
The country is up against favourites South Africa and France.
SA has large stadiums already available, while one of the stadiums in Ireland's bid - Belfast's Casement Park - has still not been built.
But hopes of a win are still alive despite Ireland being ranked last in an evaluation by the tournament's organising board.
South Africa won the board's recommendation.
The country has large, ready-made stadiums already available for the World Cup, while most of those contained in Ireland's bid are smaller.
Provisional venues in Ireland's bid include Dublin's Croke Park, Kingspan Stadium in Belfast and Celtic Park in Londonderry.
Other proposed venues, including Casement Park in Belfast, require substantial redevelopment before 2023.
'Unreasonably'
After the evaluation report, the chairman of Ireland's bid Dick Spring said it could "recover from this setback".
He said Ireland was offering a "different type of tournament" than South Africa or France.
After the report was published, Irish rugby officials complained to the world rugby authorities about the selection process.
They said the bid had been assessed "unreasonably".
The report is considered an important influence on the World Rugby Council's final vote on who will host the tournament.
The vote by rugby-playing nations will take place in London, and an announcement is expected at lunchtime.