Ulster's Paddy Jackson pleads not guilty to rape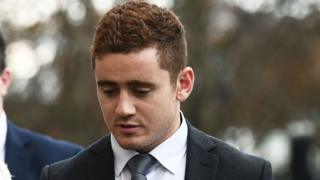 Ulster and Ireland rugby player Paddy Jackson has pleaded not guilty to one count of rape and one count of sexual assault.
The charges relate to an alleged incident in a house in south Belfast in June of last year.
The 25-year-old, of Belfast's Oakleigh Park, appeared at Belfast Crown Court on Wednesday. It is the first time he has been formally charged in court.
The court was told the trial will begin on 22 January 2018.
Two of Mr Jackson's co-accused were in court with him.
Blane McIlroy, 25, of Royal Lodge Road, Belfast, pleaded not guilty to one count of exposure.
Fourth co-accused due in court
Rory Harrison, 25, of Manse Road, Belfast, pleaded not guilty to one count of perverting the course of justice and one count of withholding evidence.
A fourth co-accused, Mr Jackson's Ulster and Ireland team-mate Stuart Olding, will be in court on Friday.
Mr Olding, 24, of Ardenlee Street in Belfast, is charged with two counts of rape.
The Irish Rugby Football Union (IRFU) and Ulster Rugby have said Paddy Jackson and Stuart Olding will not play again until the court process concludes.
Mr Jackson's barrister asked if it was possible that the trial could start earlier than the proposed date of 22 January.
He said the reason for his request was that his client "has been unable contractually to work and the sooner the matter is tried, the sooner that particular matter can be resolved".
The Judge said this was not possible, as the date of 22 January has been proposed "for a number of reasons".
She said the case would "benefit from a review", which has been scheduled to take place on 15 December.
She excused the three defendants from attending court on that date, before releasing them from the dock.