Irish border key Bexit issue says Ken Clarke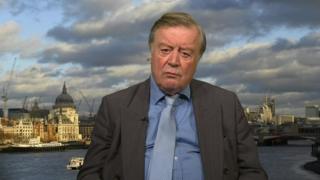 Former chancellor Ken Clarke has said the UK remaining in the single market and customs union is vital for peace and stability in Northern Ireland.
He told BBC NI's The View, that it is the obvious solution as no-one wants physical border controls.
Earlier, MPs warned there will be "severe" impacts in the absence of specific solutions for the border.
The Commons Home Affairs Committee is investigating what could happen when the UK leaves the EU customs union.
It said decisions are needed urgently, on issues including "infrastructure improvements, systems and capacity".
Speaking on Thursday night, Mr Clarke said: "The border problem in Northern Ireland, the supreme importance of keeping the settlement in place, retaining peace in Northern Ireland, is probably the single biggest, most important reason why it would be preferable for the United Kingdom as a whole to stay in the single market and the customs union.
"If the Brexiteers, these right-wing nationalists, won't allow us to do that then the best solution after that - I agree with the taoiseach actually - is to have a border down the Irish Sea."
The UK government has said it is aiming for a deal which will avoid any physical infrastructure at the border.
However, the Irish government has cautioned that the UK will need to stay in an arrangement similar to the customs union in order to avoid a "hard" border.
The UK is due to withdraw from the EU in March 2019 when it will also leave the customs union.
'Gridlock'
The customs union means EU member states do not impose tariffs or require customs declarations on goods from other member states.
The UK government has said that after it leaves, it wants to agree a new "innovative" model to avoid holdups at the border but negotiations on this have yet to begin.
The committee's chairwoman, Yvette Cooper, warned that as things stand, the first day of Brexit could see "gridlock on the roads of Northern Ireland".
The inquiry did not take separate evidence on options and arrangements for Northern Ireland.
However, some witnesses were clear that the Northern Ireland border presents particular challenges for post-Brexit customs arrangements.
Jack Semple of the Road Haulage Association said that the companies he represented struggled to see how the proposed models for post-Brexit customs arrangements could work on the island of Ireland.
The committee said that the government's plans for expanding the use of the "trusted trader" Approved Economic Operator and approved warehouses schemes could also help address some of the specific challenges at the Northern Ireland.