USPCA helping to house abuse victims' pets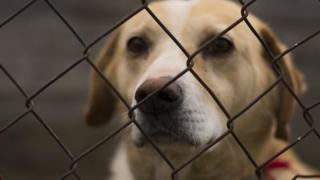 An animal charity has stepped in to help victims of domestic abuse who may be trapped in a violent relationship because of fears about their pets.
Belfast and Lisburn Women's Aid made a plea for support last week.
Now, the USPCA has said it will expand a scheme across Northern Ireland that finds temporary homes for pets from abusive households.
For the last two years, the USPCA has run the project in the south Down, Armagh and Portadown areas.
Within that time, six dogs have been cared for at their kennels in Newry, County Down.
"The first case that came in was horrifying," said Colleen Tinley, a development manager at the USPCA.
'The dog didn't like men'
"It was a violent household and we could see that the dog was affected and we're here to stop the suffering of animals, so we had no problem with taking it in.
"When it arrived, it didn't like men so only females looked after it, but we were able to work with it and bring it round.
"In that particular case, the dog had to be re-homed in the end, but in most cases the dog goes back to its owner when they have a new home."
It's difficult for some of those not involved in domestic abuse situations to understand why someone would put their life at risk for the sake of an animal.
But studies have shown that victims of domestic abuse are reluctant to leave an abusive household if there's a companion animal in the home.
John Devaney, a senior lecturer in social work at Queen's University, said the animals are an important source of comfort to victims and are considered family members, just as they are in families where there is no abuse.
"If you speak to most people who have an animal, they are a companion," he said.
'Emotional and physical abuse'
"They are a member of the family and therefore it's not a simple choice to just up and leave a member of anyone's family behind.
"But, also, the companion animal may become an even greater source of support and comfort whenever individuals are dealing with other sorts of complex situations such as the verbal, psychological, emotional and physical abuse that they may get from either a current or former partner."
Andrea (not her real name) was in an abusive relationship for about 10 years.
She and her daughter are now in a Women's Aid refuge, safe, but without the family pet that meant so much to them.
A family member agreed to look after the pet, but Andrea was adamant about what would have happened to her dog had it stayed behind.
"If there had of been somewhere for it to go, it would have been a lot easier because my daughter was very, very distressed about it. Really distressed," she said.
"I absolutely know it would have been hurt, because he would have kicked it and called it names and was actually jealous of it.
"I would have got a phone call: 'If you don't come back to me I will kill the dog.'
"It was either stay or I was putting me and especially my daughter at risk - and I knew that, so we had to just go and leave it. We really didn't have a choice."
'Threats against animals'
John Devaney understands the difficulties faced by abuse victims like Andrea.
"It's a very selfless act on their part in terms of thinking about all these considerations in trying to make arrangements.
"Not only to keep their children and their animals safe, but also to try and think about actually what might be the longer-term consequences as a result - especially if threats have been made against animals.
"If someone decided to leave and they leave their animal behind and their partner has been threatening to harm the animal, what's to stop the partner from actually doing that?"
Women's Aid and the USPCA will meet soon to firm up plans on the temporary re-homing of domestic animals.
The pets must be referred to the USPCA through Women's Aid or social services and the USPCA has procedures in place to protect the anonymity of the families who have to leave their pets.
"We're delighted about the partnership and the fact that it covers the whole of Northern Ireland," said Judith Linton, from Belfast and Lisburn Women's Aid.
"It will be fantastic to have this service and we can't wait to meet the USPCA and get it started."