NI Water buys water works projects back from private sector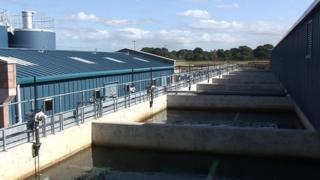 Northern Ireland Water has bought back a Public Private Partnership (PPP) that operates four water treatment works.
PPP is an arrangement in which the private sector builds, finances and manages a public sector project in return for annual fees.
It was used at a time when Northern Ireland had to upgrade much of its water infrastructure or face EU fines.
NI Water said buying the projects back for £28m is better value for money and is strategically sensible.
'Opportunity'
The treatment works are at:
Dunore Point, Antrim
Castor Bay, Lurgan
Moyola, Magherafelt
Ballinrees, Coleraine.
The move followed the decision by the Kelda Group to put the project up for sale.
NI Water's chief executive, Sara Venning, said the deal will "allow the company to apply a downwards pressure on tariffs".
"It also represents an opportunity for NI Water to reduce its ongoing running costs which releases public expenditure for reinvestment elsewhere."
Peter May, the permanent secretary at the Department for Infrastructure, said that when Kelda took on the contract in 2006, there was a need for substantial investment to meet EU standards which was over and above what the government was able to commit to at that time.
"When the opportunity arose to bring the contract back into government, the department, in consultation with NI Water and Department of Finance, carefully considered the value for money against the benefits to be gained.
"The outgoing minister indicated that where affordability and value for money were proven, purchase of the contract could proceed."