Hard Brexit 'risks' biodiversity in Ireland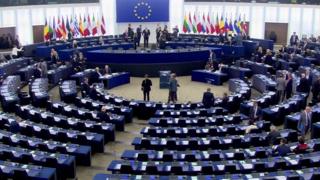 A hard Brexit could pose risks to biodiversity on both sides of the Irish border, MEPs will be told on Tuesday.
The politicians are being addressed by a panel of environmentalists.
They include Patrick Casement, the chair of Northern Ireland Environment Link - an umbrella body for environmental groups in Northern Ireland.
He will also be speaking on behalf of an equivalent group in the Irish Republic called Environmental Pillar.
Mr Casement will tell MEPs that cross border co-operation is key to maintaining habitats.
He will also call for any Brexit agreement to maintain effective protection mechanisms.
Environmentalists claim some 650 pieces of EU legislation are now the primary drivers for protecting species and habitats here.
They cite the example of the protected Light-Bellied Brent Geese which breeds in Canada but winters in Ireland.
They use wetlands in Northern Ireland as a staging area in October and November before travelling on to their principle wintering areas in the Republic of Ireland where they remain until March.
"Our small island forms a single and unique unit in terms of our natural environment and our plants and animal species do not recognise the existence of a border," said Mr Casement.
"Many of these species are currently at risk of extinction on the island of Ireland and any dilution of protection will place them in further danger."
'Governance Gap'
When the UK leaves the EU, there will no longer be the requirement to report to Brussels on the status of protected species and habitats.
The power of the European Court of Justice to sanction the UK for failing to meet targets will also go.
Environmentalists fear a "governance gap" between laws in the UK and the EU.
The Environment Secretary Michael Gove has said this is something he is aware of.
He has promised to consult on a future independent environmental body which would hold the UK government to account on the standard of its protections.
He said it will be up to the devolved administrations to decide if they want to do the same thing.