Consultation on proposals to eradicate TB in cattle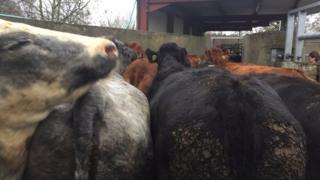 Cuts to compensation payments and a limited badger cull are being proposed as part of a plan to tackle a costly cattle disease in Northern Ireland.
Bovine TB is on the increase in Northern Ireland and costs taxpayers £40m a year - almost one in ten herds now has it.
The Department of Agriculture and Environment (DAERA) is to consult the public on a new plan to eradicate it.
An independent panel brought forward a range of proposals last December.
'Cuts in compensation'
The department said it had now decided to get on with the public consultation on them.
It will run from 30 November to 1 February 2018.
There are a range of measures but the most controversial will be cuts in compensation levels for cattle with Bovine TB and a limited cull of badgers in disease hotspots.
Any cattle testing positive for the disease are destroyed and the farmer is compensated at market value.
The proposal is to reduce the level of compensation in year one by 10%.
It would go down by a further 15% the following year.
It's proposed that a £1,500 compensation cap would apply to all non-pedigree cattle.
Farmers have always said there is little point in tackling the disease in cattle if the authorities don't also address the incidence in wildlife.
Both badgers and deer carry it.
Controversy
The independent panel suggested a number of target areas where badgers might be removed.
They proposed trapping the animals and then shooting them.
Conservationists have argued against a cull that would see healthy badgers put down.
They've also said that a cull causes badgers to move to other areas, effectively spreading the problem.
Bovine TB puts big pressure on farmers - each herd must have an annual test.
Any proving positive are then tested more regularly and are subject to animal movement restrictions.
That can lead to a build up of stock on farms.
Limited opportunities to sell live animals also lead to cash flow problems.
A cull in England has proven highly controversial.
In the Irish Republic it has been credited with a 40% reduction in TB since 2008.
It's understood the department will run a second consultation to address in greater detail issues around the wildlife intervention.